Mental Health Services and Users
Any attempt to estimate how many Alaskans use mental health services becomes entangled in two problems which have historically plagued such efforts.
15. Service data originates with a variety of sources producing neither consistent nor comparable data.
16. Many individuals use multiple services and appear in multiple databases, which we cannot reliably unduplicate.
The first problem can be dealt with by assuming that clients, cases, and other means of tallying mental health service users are essentially equivalent units. In reality these generally are not equivalent, but on a system level, these measures can probably be aggregated without distorting the picture any more seriously than any other approach.
The unduplication issue is less tractable, although progress has been made towards solving it. The Department of Health and Social Services' efforts to institute a unique client identifier and data warehouse will eventually produce an acceptable solution. A 1997 Department of Health and Social Services project matched Medicaid clients with users of some other programs. Unfortunately, those programs did not include community mental health programs for lack of keys to match the Division of Mental Health and Developmental Disabilities (DMHDD) records with Medicaid and other program records.
Chart 3 displays state-funded mental health service use, based on a 1998 DMHDD grantee survey. It shows clients unduplicated within individual grantee agencies (an unknown level of cross-agency duplication occurs, particularly in larger communities such as Anchorage and Fairbanks) in each category. We estimate that community mental health grantees served some 21,500 Alaskans during FY 97; about 14,900 adults and 6,600 youth.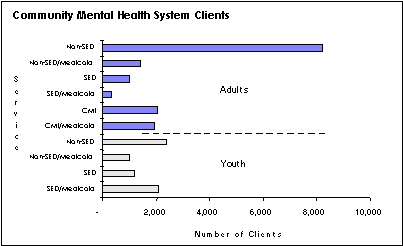 Chart 6
The services provided by community mental health grantees to these clients fall into the general categories described below.
· Crisis Intervention Services (CIS): All 32 community mental health centers in Alaska offer some level of 24 hour per day, seven day per week emergency services, including screening, assessment, crisis intervention, referral, transport to designated inpatient evaluation facilities and brief therapy for problem resolution. During FY 97, about 15,000 Alaskans used crisis services. Community mental health centers responded to about 30,000 crisis contacts from employers, police, and the public, as well as direct service users and their families.
· Services for Adults with Chronic Mental Illness (CMI): Community support programs for adults with severe mental illness are available through community mental health centers and 10 limited service providers. Services include identification and outreach, case management, medical, vocational, family/community education, peer support, protection and advocacy, crisis intervention, residential, and psychosocial rehabilitation. Other services provided to chronically mentally ill adults include consumer-run advocacy and support, family education and support, and legal advocacy. The Institutional Discharge Project serves adults released from institutions such as psychiatric hospitals and correctional facilities.
· Services for Youth with Severe Emotional Disturbance (SED): All community mental health centers and five limited service providers serve seriously emotionally disturbed children and youth. Specialized services include case management, day treatment, outreach and home-based therapy, residential treatment, individual and family therapy, and support services. Services for youth with the most severe problems are provided through the Alaska Youth Initiative (AYI), an individualized wrap-around service program that served 128 youth during FY 97.
· General Mental Health Services (GMH): 16 community mental health centers and 2 limited service providers serve people experiencing depression, suicidal ideation or behavior, or other serious individual or family psychiatric dysfunction. Services include evaluation and diagnosis, brief strategic individual and family therapy, psychiatric and nursing services, and case consultation. Other general mental health services are community organization, public education, and advocacy.
In addition to services offered through community organizations, the state provides inpatient services through both the Alaska Psychiatric Institute and local hospitals, as described below.
· Evaluation and Designated Treatment (DET): Designated community hospitals provide inpatient services for individuals involuntarily committed under Alaska law, providing court ordered evaluation and brief hospital care close to clients' homes with minimal disruption to clients' lives. Eight hospitals evaluated 85 clients and four treated 25 clients during FY 97.
· Alaska Psychiatric Institute (API): API provides inpatient psychiatric care to adults and adolescents who are psychiatrically disturbed and whose needs exceed the local service capacity. A special security unit evaluates and treats forensic patients who need services for competency to stand trial, or who cannot be managed in a prison setting. The service array encompasses comprehensive assessments, physical exams, individual, group, and family therapy, and medication management. API admitted 1,258 patients during FY 97.
These overall service use figures, combined with some more specific data discussed immediately following, seem to indicate that Alaska's community mental health system serves about one-half of the state's adults experiencing serious mental illnesses. This reflects estimates nationally of SMI service penetration. Between one-fifth and one-quarter of Seriously Emotionally Disturbed children and youth receive community mental health center services, well below national levels of about one-third of that population served.